Conference Presentation: "The Horror of Antebellum South Haunting on Stage: Branden Jacobs-Jenkins's Appropriate (2013)" 본문
Dohyun Gracia Shin/Updates
Conference Presentation: "The Horror of Antebellum South Haunting on Stage: Branden Jacobs-Jenkins's Appropriate (2013)"
Dohyun Gracia Shin 2020. 5. 16. 17:03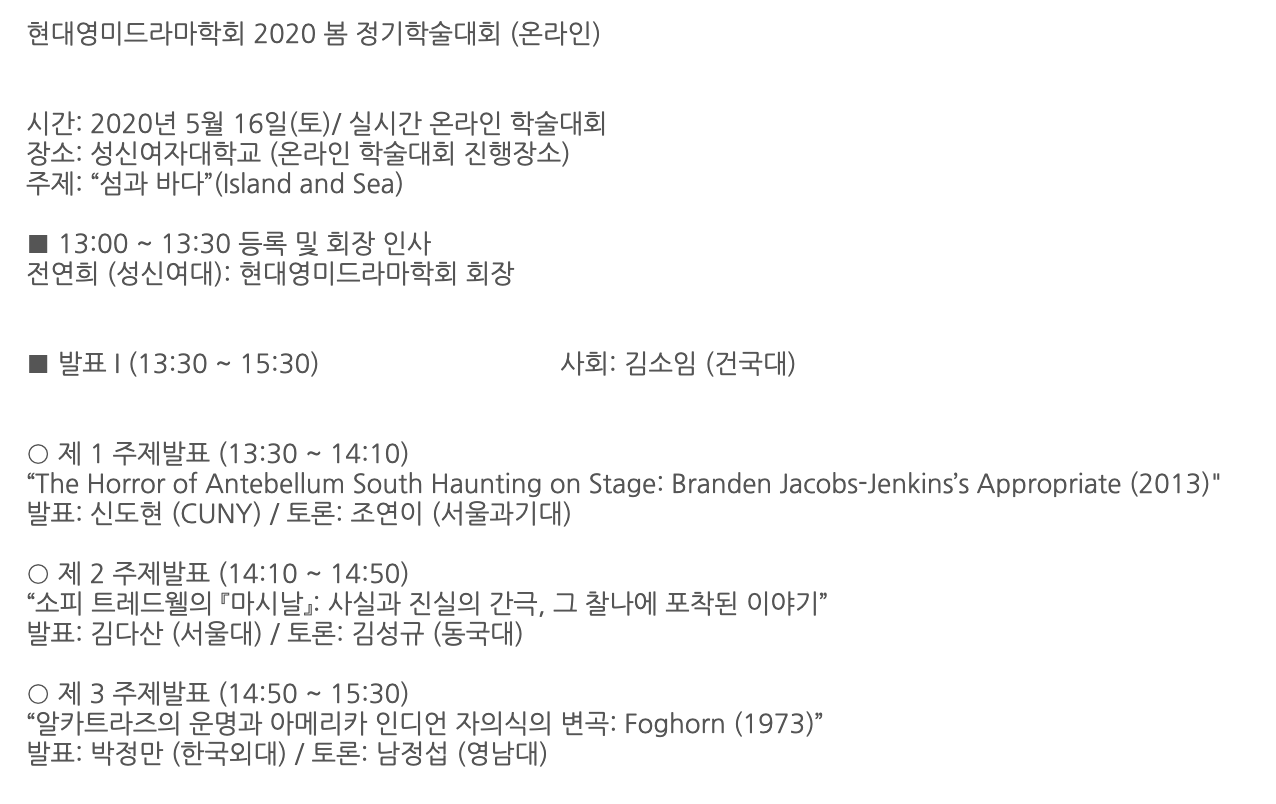 I presented on Branden Jacobs-Jenkins's Appropriate (2013) at the 2020 zoom conference of The Modern English Drama Association of Korea (MEDAK). The abstract and some slides of the PowerPoint are attached below.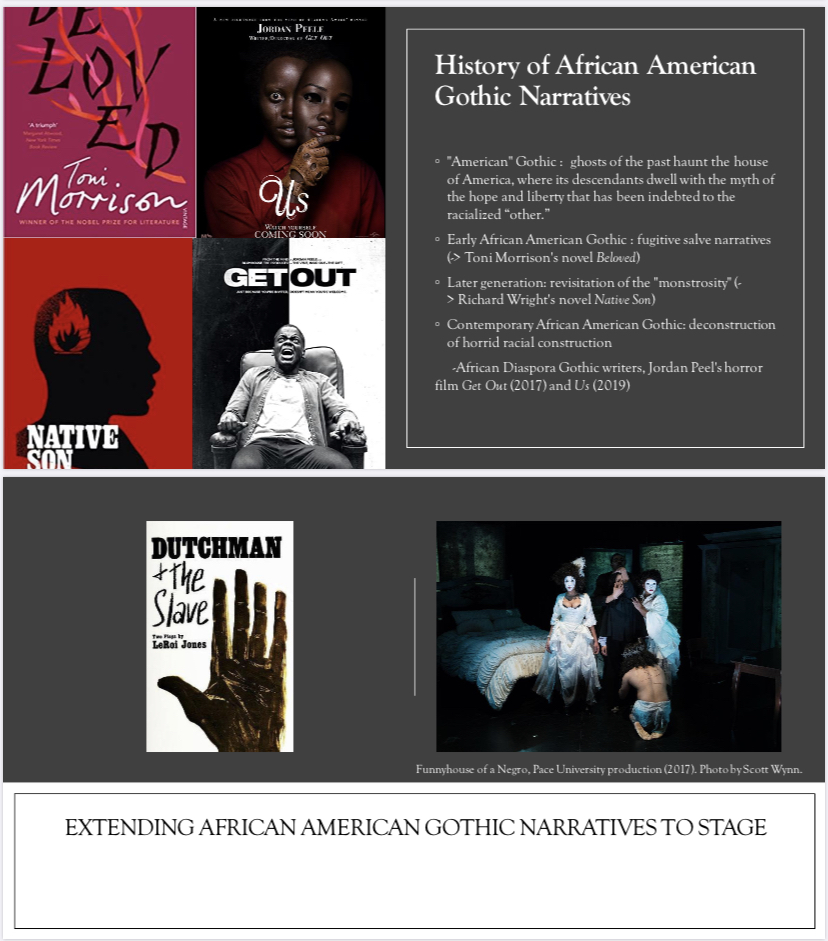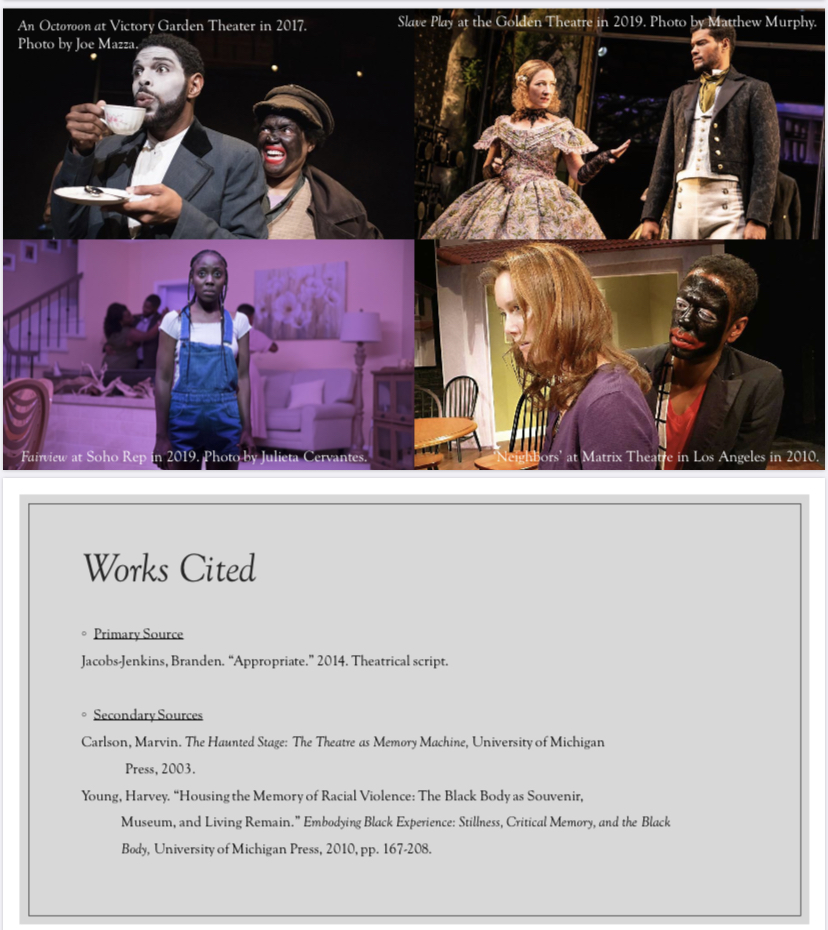 Abstract
Unlike the English tradition, the crux that haunts the American Gothic narrative is not a monster or specter. Instead, what is behind the ghosts, dread, and suspense of the American Gothic narrative is unresolved trauma from the start of its nation. The ghosts of the past haunt the house of the United States, where its descendants dwell with the myth of the hope and liberty that has been indebted to the racialized "other." In this aspect, this presentation focuses on African American Gothic devices that linger on stage of Branden Jacobs-Jenkins's play Appropriate (2013). Borrowing Harvey Young's analysis on the lynched black body (part) as souvenir and living remains, I examine how Jacobs-Jenkins resists the status-quo of the cultural identity of the U.S. by disclosing the dreadful structure based on slavery, which is symbolized by the commodified, fetishized body (parts) in the tradition of early African American Gothic. Then, I further ask a question about how contemporary African American Gothic devices haunt the stage in Appropriate. If a house has been a traditional analogy for the nation, the U.S., what about the theater itself? By reading African American Gothic narratives as a connection between the past and the present in Teresa Goddu's tradition, I argue that the theatre, "memory machine" (in Marvin Carlson's term) can be read as a type of archive that cites back to its past generation and connects it to the present and even to the future. In the theater that houses the traumatic memories of the U.S., Appropriate summons stories that are not to be forgotten and maps out the memories on stage, the spatial ground that can be distinguished from other types of Gothic literature.